Industrial candles filter
Description and working principle.
A turnable brings the candles, one after the other, opposite the flush orifice. Easy acces to the candles for control, without having to open the filter. Especially recommended on open water circuits containing suspended solids of variable composition.
Markets.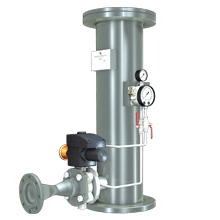 Applications.
Separation of various mixed solids up to 150 mg/l, with a high content of fine and light particles.
Our provider for this type of filters.