Industrial hydro-cyclone filter
Description and working principle
This filter combines the action of a double effect hydro-cyclone and triangular slit candles. The materials to be eliminated are divided according to their specific weight.
In the hydro-cyclone, the heavy particles are stopped and concentrated in the bottom of the filter.
On candles, light particules are stopped and removed during counter-current flush.
Markets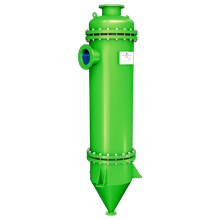 Applications
Particularly recommanded on cooling circuits, when the contents of sand, silica and ashes are high, in mettalurgy for example.
Our provider for this type of filters