Hygienic twin Screw pumps
Description and working principle
The twin screw pump is a volumetric pump based on the synchronized contact free rotation of 2 screws/spindels.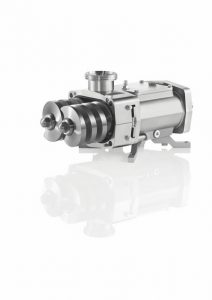 It is a hygienic and self-cleaning principle that allows to convey in a pulsation free manner low to highly viscous products. These Pumps can also handle abrasive fluids and liquids with solids up to 57 mm in diameter. They are usually directly driven by a classic IEC electric motor and hence offer the possibility to allow for significant speed ranges from 100 to 3600 rpm which renders these pumps suitable to combine CIP / SIP cleaning cycles and production in a single pump.
The pulsation free flow combined with the close proximity of the rotors to the inlet guarantees a low NIPR operation which allows to create a great suction power.
Applications
Food and pharmaceutical and cosmetic industries,...
Markets

Our supplier for this type of pumps